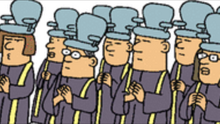 The Secret Society of Executive Secretaries was an organization led by Carol. It was poised to take over the world, starting with their bosses. However, the whole thing fell apart when someone named Carrie pointed out that they would need their own secretaries.
Ad blocker interference detected!
Wikia is a free-to-use site that makes money from advertising. We have a modified experience for viewers using ad blockers

Wikia is not accessible if you've made further modifications. Remove the custom ad blocker rule(s) and the page will load as expected.