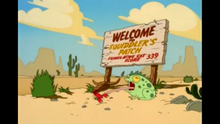 Squiddler's Patch
was a small town in the desert. It's cumulative SAT score was 339. It was the home of Pa, Ma, Dory Ann, and Lucas.
Path-E-Tech Management
shipped
The Gruntmaster 6000
there for testing, and the families's antics caused a black hole to form. Fortunately,
Dilbert
was able to use the black hole to prevent the Gruntmaster 6000 from ever being shipped to Squiddler's patch in the first place.
Ad blocker interference detected!
Wikia is a free-to-use site that makes money from advertising. We have a modified experience for viewers using ad blockers

Wikia is not accessible if you've made further modifications. Remove the custom ad blocker rule(s) and the page will load as expected.