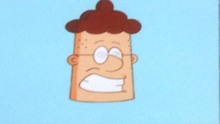 Todd is a co-worker made up by Dilbert, Wally, Alice, Asok, and Loud Howard who is only seen in the episode, Virtual Employee, to hide their spare cubicle . He is a composite of Dilbert, Howaradm Alice, and Askok. He had Dilbert's glasses and skin color, Asok's face, Howard's smaile, and hair color, and a scaled down version of Alice's hairstyle.
Ad blocker interference detected!
Wikia is a free-to-use site that makes money from advertising. We have a modified experience for viewers using ad blockers

Wikia is not accessible if you've made further modifications. Remove the custom ad blocker rule(s) and the page will load as expected.