Wally
Talk

0
113pages on
this wiki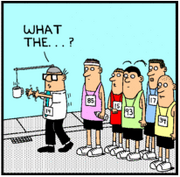 "My goal is to replace my soul with coffee and become immortal"
―Wally
Wally is a co-worker of Dilbert and is the lazy guy in the group. He does almost no work and is paid about the same as the others. He is rich due to involvement in internet stock trading, but still comes to work because he doesn't know how to make coffee. The Pointy-Haired Boss once said that he had fired nine bald guys because he thought they were Wally. The Boss has said a few times that he would fire Wally, but there is a hiring freeze so he can't replace him and he doesn't want to shrink his empire. Wally has even received a bonus from the Boss right after he said that because the company had done well that year. It is in question if Wally is even human, as he has not died from caffine overdose and has no fingerprint, DNA, or heartbeat. He once took "Yoda" classes, thinking they were Yoga classes. He was also recruited as a door troll by Catbert in the TV episode, "The Merger".
"Retire? Why would I retire? All I do now is surf the internet and why should I pay for that?"
Dilbert: You would have made a great evil mastermind.
Wally: Eh, the hours are too long.